Eccentric Presses – SE Series
Eccentric Press Manufacturing Since 1959
Eagle SE eccentric presses are widely used throughout North America for various press applications that require fast cycle times, and variable press force. Our SE Series Presses address medium and high tonnage applications which require long strokes and have high energy demands.
Manufacture Options – Eagle eccentric presses include custom bed areas, stroke lengths and shut heights. Large windows are available. This series is typically double-geared, with either a two or four point suspension.
The SE series presses range in capacity from 400 to 3500+ tons, with optional high-tech equipment available.
Superior Design For Higher Production Efficiency
The increase in demand for reduced parts cost, faster response times and efficiency in the production of standard and complex parts has become increasingly important. At Eagle Press, we engineer our presses to significantly increase your parts per minute averages while ensuring they remain productive for decades to come. The rugged frame construction and 2 or 4 point slide suspensions offer high rigidity for optimum levels of eccentric loading. Our eccentric presses are manufactured to the highest standards with advanced engineering that gives our customers excellent parts quality and longer tool service life.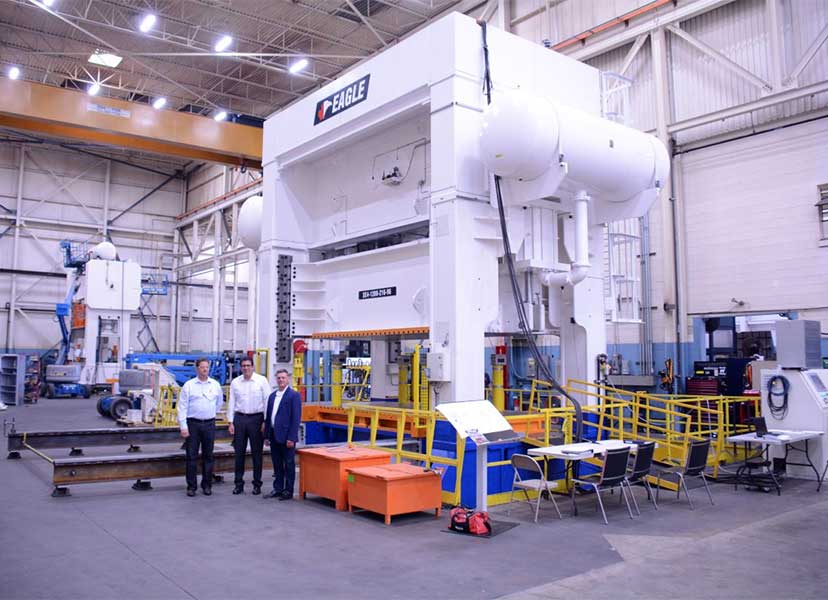 Eccentric Press Features
Eagle eccentric presses can be customized to meet your specific challenges. With a variety of options, we can optimize for your production needs for the maximum degree of productivity and manufacturing quality.
Automatic counterbalancing
Soft touch and braking
Variable speed drives
Programmable cams
Hydraulic overloads
Tonnage monitors
Rolling bolsters
Transfer and feeder integration
ADC (uni or bidirectional)
Eccentric Press Applications
Eagle's straight-sided eccentric geared presses are widely used in various applications that include; forming, cutting, bending, trimming, deburring, deep drawing, blanking, and hole punching. Whether your needs are simple or complex we will fully customize and install your eccentric press based on your production and performance requirements.
Whether custom or stock, large or small tonnage, stand-alone or turnkey; let Eagle Press help form your future.