The Most Advanced Servo Stamping Presses Available
Eagle Press is a Leading North American Manufacturer of Servo Presses. We are committed to extraordinary engineering, visionary design and standard-setting innovation.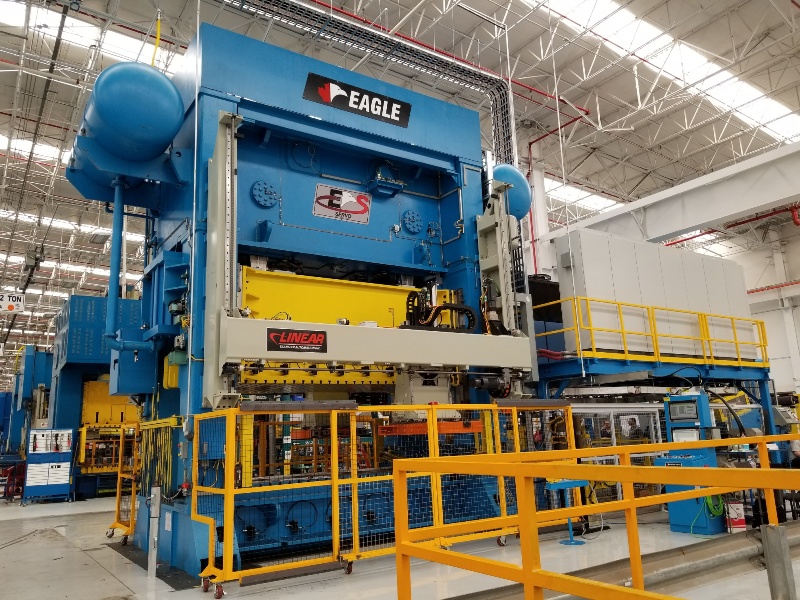 The Eagle High Torque Servo Press series allows maximum flexibility with programmable stroke (pendulum), velocity and dwell profiles. This series utilizes high torque/law rmp servomotors. A 100% energy management system optimizes power consumption, minimizing energy costs. Eagle servo presses provide Increased part quality and die life due to optimization of the forming process. In addition, every Eagle Servo Press utilizes ultra-high precision gears.
Eagle Press uses the most advanced servo stamping presses available in this industry. The presses used by Eagle Press have a wide range of capabilities and large production capacities, up to 3,500 metric tons. We are an industry leader in our servo press production capabilities.
Eagle Press produces a variety of servo models containing the most powerful servo motors available. Because of Eagle's advanced technology and application knowledge, we are committed to manufacturing machinery that takes full advantage of the benefits that servo presses can bring to the industry.
State-of-the-art control systems and advanced software result in ultra-reliable, high precision systems with high-speed operations.
Servo Press Applications
Blanking, Heavy Stamping, Progressive Die and Transfer, Tandem Line, Hemming
Features
Programmable Cams
Variable Speed Drives
Variable Profile Motion
Hydraulic Overloads
Automatic Counterbalancing
Clients can count on the accuracy and dependability of servo presses, custom designed to deliver high-quality results for unique processes under even the most extreme demands.