Eagle Rhino
Eagle Rhino
Eagle Rhino Gap Frame Mechanical presses are available from 40T to 400T capacity. To achieve high rigidity, frames are fabricated from tested steel plates and stress relieved to ensure uniform stress distribution and reduces angular deflection thereby maintaining alignment of top and bottom dies.
Extra long six point guides to ensures accurate slide guiding. Crankshaft, Connecting rod, quill mounted Flywheel, Gear & Pinion designed for precise and vibration free transmission. Wet Type clutch and brake unit leads to long life of clutch and brake liners and easy maintenance.
GZ Series is applicable for Shallow Draw, Forming, Piercing, Notching, Trimming, Bending operations.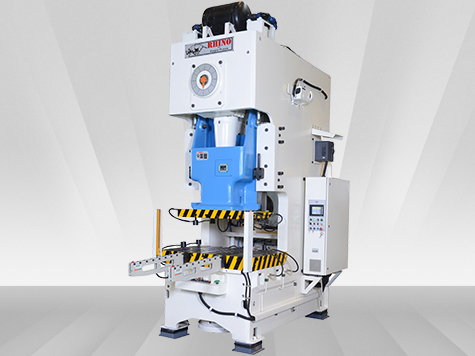 Salient Features includes:
Automatic lubrication system lubricates crankshaft bushes, connecting rod bushes & Slide Guides, monitored through progressive lubrication supply line.
Hydraulically operated fast acting over load protection mechanism mounted on slide for better performance and thereby preventing damage to the press & dies.
Oil dipped slide adjustment threads leads to reduce friction, prevent jamming and increased life.
User-Friendly operator interface with diagnostic features.
Showroom model presses available for Immediate delivery.