Local stamping firm builds $2.8M game-changer of a press machine
The "future of metal-forming" was unveiled Monday at Oldcastle's Eagle Press — a three-storey-tall, 800-tonne stamping press that sells for $2.8 million.
Doug Schmidt – Windsor Star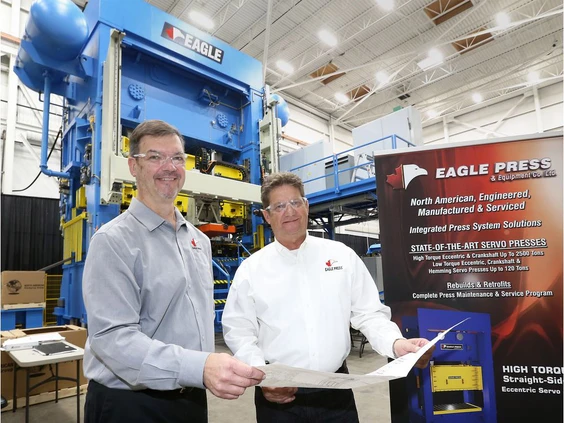 It stands three storeys tall, is made up of about a half-million pounds of steel and electronic gadgetry and uses an 800-ton press to turn a flat strip of ultra-high-strength metal into a machine part for anything from a car to a washing machine.
"This is going to be the future of metal-forming," said Ted Polewski, president of Eagle Press & Equipment Co. Ltd. of Oldcastle.
Eagle Servo Press technology, the first of its kind in Canada, "is turning the mechanical press into a piece of CNC machinery," he added.
Despite its immense size, the new stamping press, packed with computer software and electronic controls, is a compact design, as such machines go, and is a lower-maintenance and greener version of the conventional presses built by Eagle Press, already the supplier of some of the biggest customized stamping presses in North America.
It was a bittersweet moment last week as some of the first manufactured pieces were being produced by the new machine, which, unlike its predecessors, only needs to run when the press is in motion, making for more flexibility, efficiency and hydro savings.
Ed Polewski, one of the three brothers who took over the company started by their father, Ted. Sr., and his brother, Victor, in 1959, died earlier this year of stomach cancer. Ed, 57, ran the engineering group that developed the next-generation press from its inception stage three years ago.
"He never got to see it — he died when it was just starting to be assembled," said Ted, who now presides over Eagle Press on O'Neil Street with his younger brother, Mark.
The company is hosting an open house this week for clients, both existing and potential, to showcase its new high-tech product. Ted Polewski said the assembly process had barely begun on the first of the new stamping presses when word got out and it already had a purchaser.
Selling price? About $2.8 million.
"We're the only ones in Canada who can do what we do," said Polewski. He anticipates big demand for the new stamping press, and that it assures the future of the company's approximately 60-strong local workforce in a competitive industry.
Even among its global competitors, he said, "We believe we have better technology."
The majority of Eagle Press's business is in the automotive sector, but it also has clients in HVAC, appliance, aerospace and other manufacturing industries, "a lot of them global," said Polewski.
As ginormous as it appears — it will take at least five transport trucks to deliver just the disassembled main press to its new owner — the new 800-ton servo press is a junior next to a 1,200-ton stamping press being assembled next to it on the giant Eagle shop floor. And both of those don't come close to the 3,500-ton record-sized unit built in 2010 for a Volkswagen supplier in Tennessee, which weighed in at close to two million pounds.