Single & Multi Stationed
Transfer Presses
Transfer Press Manufacturer Since 1959
Eagle Press has been manufacturing transfer presses for customers throughout North America since 1959. Our transfer presses are fully automated with press range capacities from 400 to over 3,500 tons.
The Eagle transfer presses can be single or multi stationed and are designed for production applications of all sizes and complexities. With fast cycle times, variable press force, rugged frame construction and multi slide suspensions, these transfer presses offer high rigidity for optimum levels of eccentric loading requiring higher stroke rates and tonnage.
Eagle SE Series eccentric presses and SEL Series link drive presses are highly reliable and can be customized for your production and application needs.
Eccentric Geared and Link Driven Transfer Presses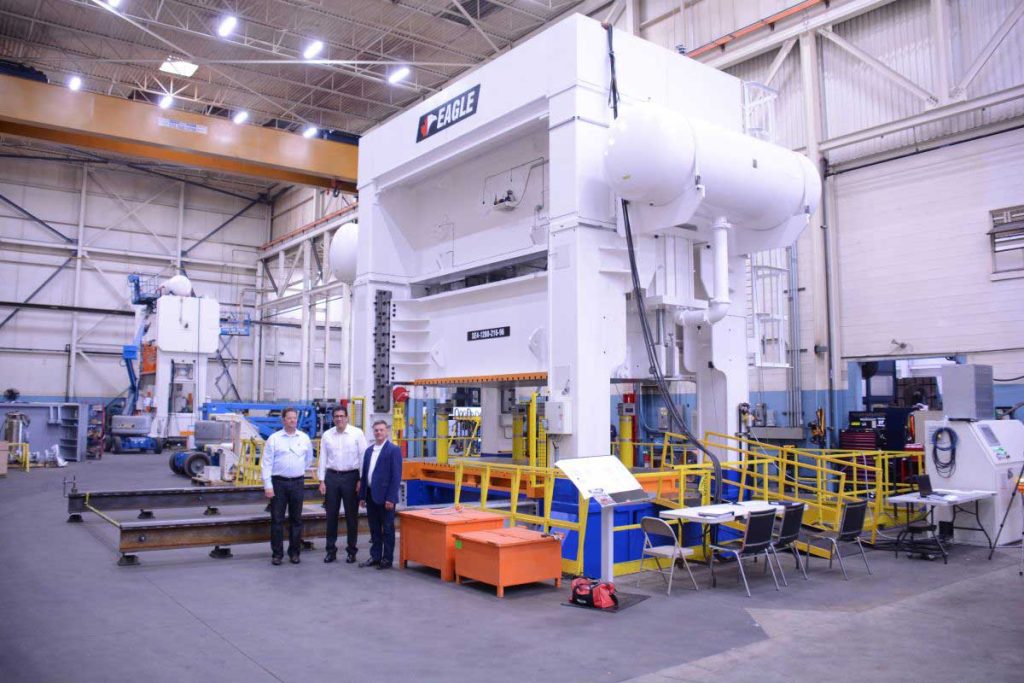 Transfer Press – Eccentric Geared
Applications
Medium and high tonnage applications which require long strokes and have high energy demands.
Custom bed areas, stroke lengths, shut heights and large windows.
Typically double-geared with a two or four point suspension.
Capacity Range of 400 to 3,500 tons with optional high-tech equipment available.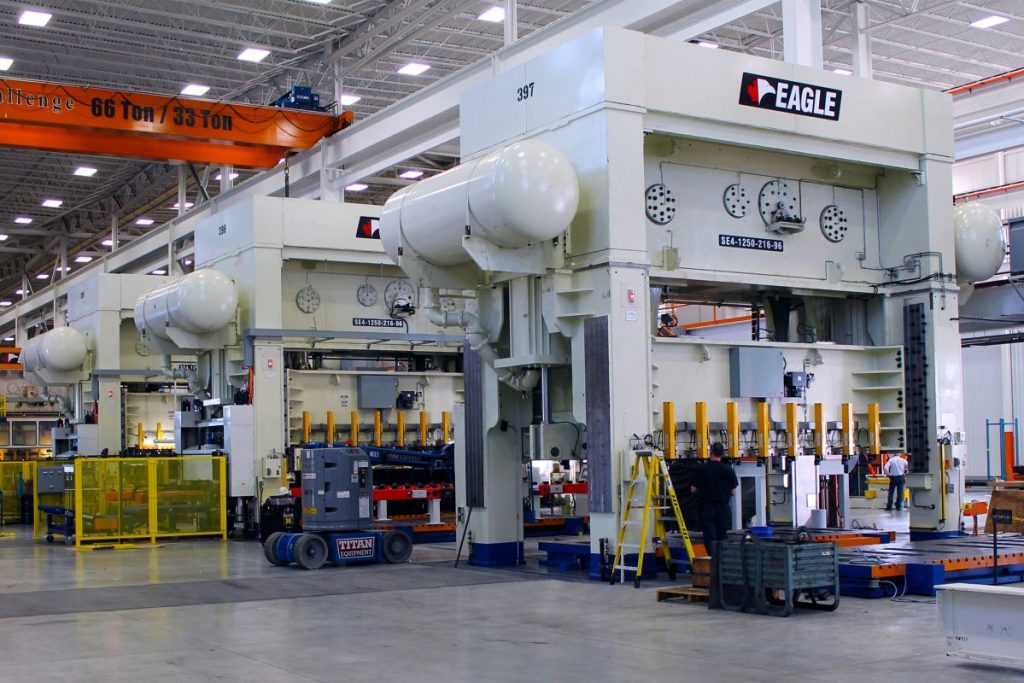 Link Driven Transfer Presses
Applications
Optimized Press Productivity through higher press slide speeds during non-working portion of the stroke.
Controlled, slower slide velocity through working portion of the stroke.
Higher Production Rates (strokes per minute) requiring less torque than an eccentric gear drive.
Lower torque results in less gear face width, smaller driveshaft diameters, bearings and drive energy.
Designed for 3500+ tons capacity with automatic counterbalancing, and reduced sound levels.
Eccentric Geared / Link Driven Transfer Press Options
automatic counterbalancing
soft clutch and braking
variable speed drives
programmable cams
hydraulic overloads
tonnage monitor
rolling bolster
transfer and feeder integration
ADC (Uni or bidirectional)
As a leading North American transfer press manufacturer, Eagle specializes in custom transfer press systems to handle various types of applications. Contact us today to discuss your transfer press requirements.