Mechanical Presses & Automation
Since 1959, Eagle Press has become a Leading North American Press Manufacturer. We are committed to extraordinary engineering, visionary design and standard-setting innovation.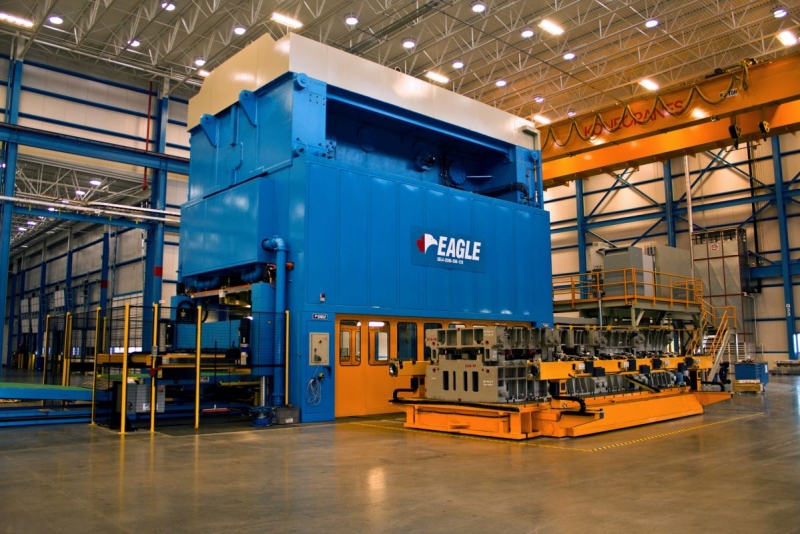 Eagle mechanical presses are available in crankshaft, eccentric geared and link driven configurations. The Eagle SC, or straight-side crank press line covers low to medium tonnages from 100 to 1000 tonnes. Gearing arrangements vary with bed sizes and energy requirements from single geared, single end drives to double geared, twin end drives
The Eagle SE; Eagle straight-sided eccentric geared press and SEL: Straight-sided Eccentric Link lines cover presses in the medium to high tonnage range. These presses are typically double geared with a 2 or 4 point suspension and have higher energy demands.
Mechanical Press Applications
Blanking, Heavy Stamping, Progressive Die. Transfer, Tandem Line, Draw & Precision Stamping
Features
Programmable Cams
Variable Speed Drives
Soft Clutch and Braking
Hydraulic Overloads
Automatic Counterbalancing
Eagle Press specializes in custom presses from 100 to 3500+ tons and feature an array of stock press options which are available for quick delivery. Our mechanical presses are custom designed to meet customer specifications and requirements.