Gap-Frame Presses for Tenn. Showroom
By MetalForming Magazine
February 4, 2022
Eagle Press & Equipment Co. Ltd., Windsor, Ontario, Canada, an Isgec Group Company, has begun to showcase its stock line of Rhino GZ-series gap-frame presses at its Eagle Press America Inc. showroom in Portland, TN. Rhino GZ presses are available from 80 to 315-ton (or more) capacity and boast a rigid frame fabricated from tested steel, stress relieved to ensure uniform distribution and reduce angular deflection to maintain alignment of the top and bottom dies.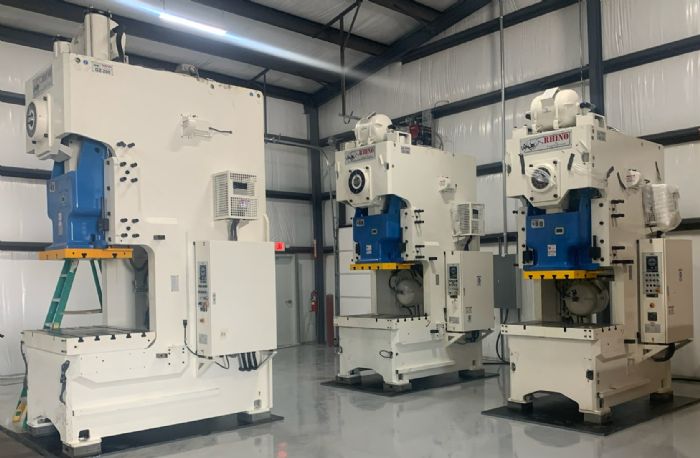 To ensure accurate slide guiding, Rhino GZ presses employ extra-long six-point guiding. And, the presses feature elements specifically designed for vibration-free force transmission–crankshafts, connecting rods, a quill-mounted flywheel and the gear-and-pinion system. In addition, a wet-type clutch and brake unit maximizes brake-liner life and simplifies maintenance.
Use Rhino GZ series for shallow drawing, forming, piercing, notching, trimming and bending operations.
---
As a leading North American Press Manufacturer Eagle Press & Equipment has over 60 years of experience in press machinery manufacturing. A range of hydraulic presses, mechanical presses, servo presses and standard presses are custom designed, manufactured and installed for the stamping and forming industries. Eagle's highly skilled and innovative design team utilize state-of-the-art techniques and equipment as well as sound engineering to provide the most advanced presses available.